Use: Light fitting for the illumination of pedestrian zones, parks, orchards and other public areas.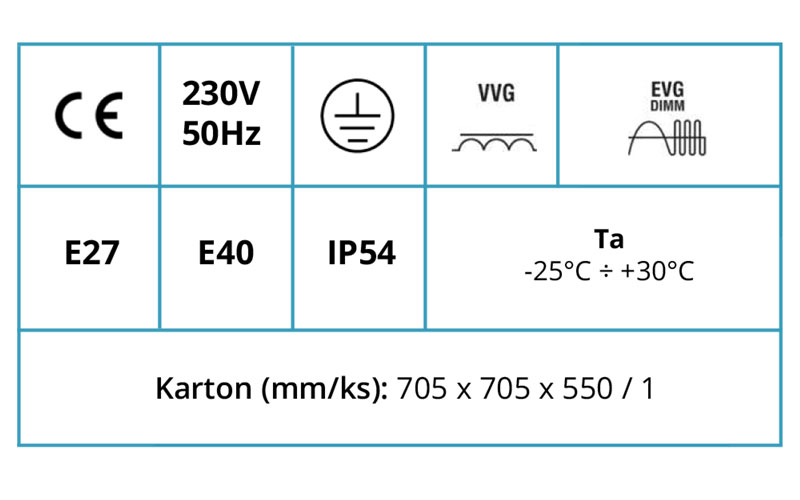 Technical description: The top cover of the light fitting is made of prepreg, the bottom cover is made of opal PMMA. The nut for fixing the top cover is made of silamide. The pedestal is made up of a prepreg cone and an AlSi allow holder for fixing onto a column. The removal base plate with electrical equipment is fixed to the light fitting pedestal. The light fitting is to be fixed to a column shank ø60 mm. The max. cross-section of the connecting conductors is 2.5 mm2.
Installation: On a column.
Versions: Light fittings are made in versions with an electromagnetic ballast (VVG), for high-pressure sodium, halide or mercury discharge lamps. Light fittings can be also equipped with electronic adjustable ballasts (EVG DIMM).
To order: Bottom cover 342.2554, silamide nut 412.2560.
| Type | Recommended light source [W] | Electronic ballast dimmable | Weight [kg] |
| --- | --- | --- | --- |
| 446 27 05 | High-pressure sodium discharge lamp 50 | - | 13 |
| 446 27 53 | High-pressure sodium discharge lamp 50 | Yes | 13 |
| 446 27 07 | High-pressure sodium/halide discharge lamp 70 | - | 13 |
| 446 27 73 | High-pressure sodium discharge lamp 70 | Yes | 13 |
| 446 27 09 | High-pressure sodium/halide discharge lamp 100 | - | 13 |
| 446 27 01 | High-pressure mercury discharge lamp 80 | - | 13 |
| 446 27 03 | High-pressure mercury discharge lamp 125 | - | 13 |