Use: Light fitting for the illumination of roads, parks, car parks, public areas as well as industrial spaces.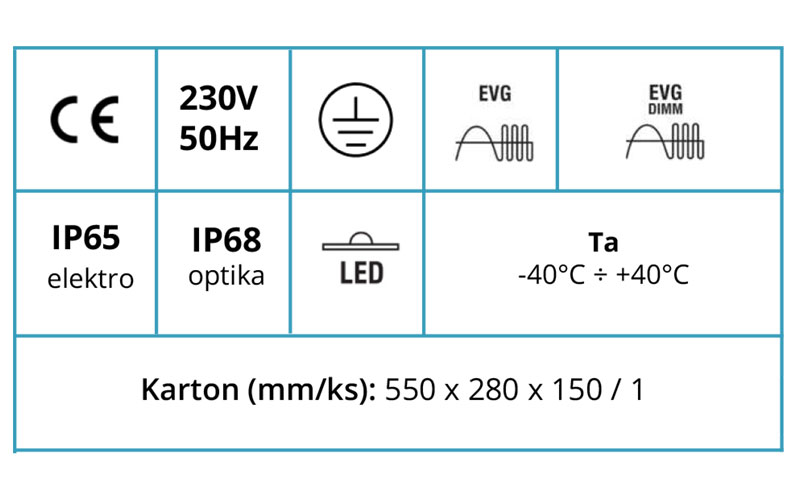 Technical description: The light fitting body is an aluminium casting finished with powder paint. There is an LED module built inside the light fitting. The reflector is made of chemically polished aluminium sheet. The max. cross-section of the connecting conductors is 4 mm2.
Installation: For boom or pole Ø60 mm.
Versions: The light fitting are made in a version with an electronic adjustable ballast (EVG DIMM). Light fittings are provided with a self-resetting thermal fuse.
| Type | Number of chips | Power input [W] | Luminous flux [lm] | Dimensions [mm] | Weight [kg] |
| --- | --- | --- | --- | --- | --- |
| ES CONTURA DA30 | 1 | 21 | 3000 | 512,5 x 255 x 117,5 | 6,6 |
| ES CONTURA DA40 | 1 | 29 | 4000 | 512,5 x 255 x 117,5 | 6,6 |
| ES CONTURA DA50 | 1 | 38 | 5000 | 512,5 x 255 x 117,5 | 6,6 |
| ES CONTURA DA60 | 1 | 46 | 6000 | 512,5 x 255 x 117,5 | 6,6 |
| ES CONTURA DA70 | 1 | 54 | 7000 | 512,5 x 255 x 117,5 | 6,6 |
| ES CONTURA DA80 | 1 | 62 | 8000 | 512,5 x 255 x 117,5 | 6,6 |
| ES CONTURA DA90 | 1 | 69 | 9000 | 512,5 x 255 x 117,5 | 6,6 |
| ES CONTURA DA100 | 1 | 77 | 10000 | 512,5 x 255 x117,5 | 6,6 |
| ES CONTURA DA110 | 1 | 85 | 11000 | 512,5 x 255 x 117,5 | 6,6 |
| ES CONTURA DA120 | 2 | 92 | 12000 | 512,5 x 255 x 117,5 | 6,9 |
| ES CONTURA DA130 | 2 | 93 | 13000 | 512,5 x 255 x 117,5 | 6,9 |
| ES CONTURA DA140 | 2 | 100 | 14000 | 512,5 x 255 x 117,5 | 6,9 |
| ES CONTURA DA150 | 2 | 107 | 15000 | 512,5 x 255 x 117,5 | 6,9 |
| ES CONTURA DA160 | 2 | 114 | 16000 | 512,5 x 255 x 117,5 | 6,9 |
| ES CONTURA DA170 | 2 | 126 | 17000 | 512,5 x 255 x 117,5 | 6,9 |
| ES CONTURA DA180 | 2 | 133 | 18000 | 512,5 x 255 x 117,5 | 6,9 |
| ES CONTURA DA200 | 2 | 154 | 20000 | 512,5 x 255 x 117,5 | 6,9 |